Why do swimmers break more records than runners?
When Olympic swimmers took to the pool in Rio, world records began to get broken thick and fast - in the first four days of swimming it happened six times. This kind of thing never happens on the running track. Why not?
The first new swimming record in Rio saw Katinka Hosszu of Hungary knock more than two seconds off the best time for the women's 400m individual medley. Then Australia broke the record for the women's 4x100m freestyle relay, and Sweden's Sarah Sjostrom set a new fastest time in the women's 100m butterfly.
And so it went on. Britain's Adam Peaty broke the 100m men's breaststroke record twice in two days and Katie Ledecky of the US set a new time in the women's 400m freestyle.
On top of that, on Friday night Ledecky knocked two seconds off her 800m freestyle world record.
At the London Olympics four years ago, it was much the same. Nine new world records were set in the pool - and this compared to just two on the running track.
"Since 1972, roughly 10% of the [Olympic] track and field events resulted in world records and if you look at swimming, we're up close to 40%," says Canadian swimming coach and blogger Rick Madge.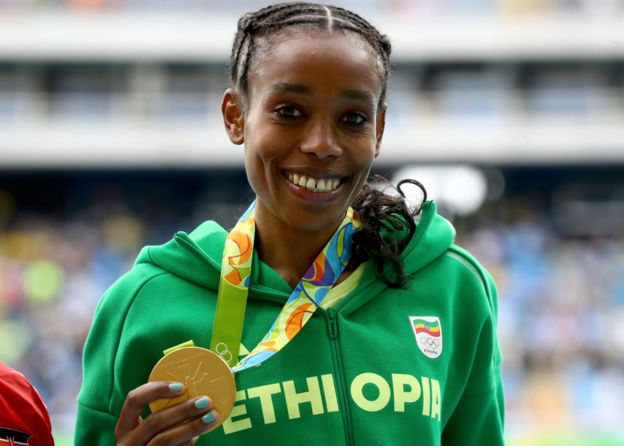 A new world record has just been set in the women's 10,000m in Rio but these days runners are breaking new records at a slower rate than they did 40 years ago, he says. That's not the case in swimming.
"Since 2000, roughly 6% of the track and field events got world records and yet swimming is still up around 40%... it's not tapering off."
Also, while sprinters tend to shave a fraction of a second off the previous record, swimmers such as Hosszu and Peaty, have taken off one or two seconds.

Since 1912 the world record in the men's 100m freestyle has improved by 23.85% - from one minute 1.6 seconds to 46.91 seconds - whereas in athletics the record in the men's 100m has gone from 10.6 seconds to 9.58 seconds, an improvement of just 9.62%, according to Tiago Barbosa of Singapore's Sports Biomechanics Laboratory.
"If you watch the video of the 100m dash in 1912, you realise that there are things very similar to what is a 100m sprint today," he says. "But as far as competitive swimming is concerned, the only thing really in common is that you will find humans racing in water."
So why is there such a marked difference? Part of it is that the strokes involved in swimming are far more complex than running and are still evolving, says Madge.
"They involve virtually all parts of the body. And they are moving through water which is so much more dense, which means that everything that you do has to be optimised - your head position, your streamline position with your body, how your arms are above and below the water, how you kick. Those are all things that are very complex. It means that there's lots of room for optimisation."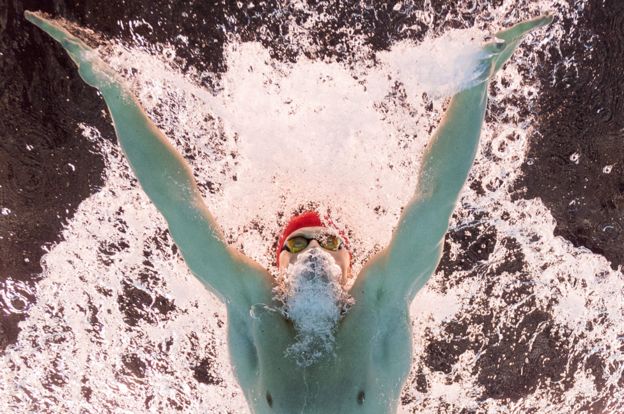 For example, in 2012, when Cameron van der Burgh won the men's 100m breaststroke, he made between 50 and 52 strokes per minute, which was considered fast at the time. But this year Adam Peaty increased that to between 58 and 60 strokes per minute, which makes a "very difficult and very powerful stroke", says Madge.
Then there's the fact that the pool is a controlled environment, whereas the track is outside - it's much harder to control temperature and humidity, which can affect an athlete's performance.
The recommended three-metre depth of an Olympic pool reduces turbulence, while a temperature of 25C to 28C keeps muscles neither too tight nor too relaxed, reports the Financial Times.
Technology is another factor.
The paper notes that "shock-absorbent lane dividers and slick drainage to reduce ripples" are also being used in Rio.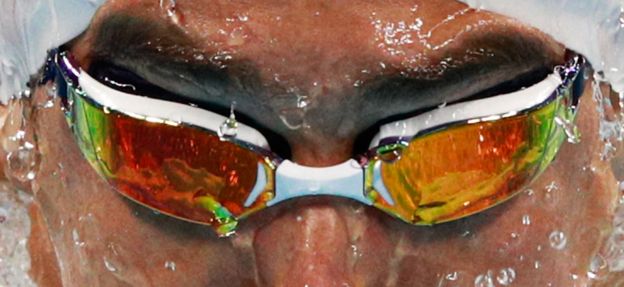 One simple item drove the biggest long-lasting change to the sport - goggles. Competitors started to wear them in international competitions in the 1970s to see under water and protect their eyes from splashes and chemicals such as chlorine.
"That turned training from something which would be 10 to 12 hours per week and limited by how much abuse your eyes could take, to - very quickly, in the mid 70s - people training 25 or 30 hours a week," says Madge. "That additional training time meant that the world records were just being crushed in virtually every event."
Starting blocks have improved and swimsuits have made their mark too. The 2008 Beijing Games saw records broken in 19 events because new bodysuits made swimmers more buoyant and helped them slip through the water.
Although these suits were banned in 2010, other technological advantages and tweaks to the rules - allowing faster turns and dolphin kicks - have helped keep the swimmers in the lead.
There is of course another factor - doping. Drugs have affected swimming as well as athletics but athletics still has records from the 80s, and many people believe that some of those were chemically assisted. In swimming, however, records from the most extreme days of doping have been beaten because of all the other ways developed to improve results in the sport.